Jeremiah J. Breen
Electrician's Mate 3rd Class, USS ASTORIA 1944-1945
E Division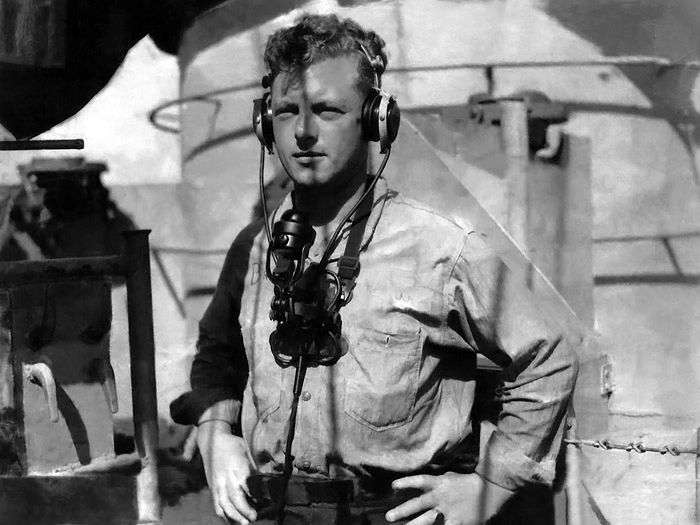 CLICK PHOTO TO ENLARGE
Mighty Ninety plankowner Jeremiah J. Breen in a 1944 photo. This image was taken on the port side of "Sky Aft," the gunfire director platform for the ship's after batteries. Breen wears an RCA sound-powered chest microphone and headset, commonly referred to as a "talker" rig. The cable that trails to his waist would be plugged into a jack allowing him to interact with other talkers throughout the ship.
-photo courtesy of Terry Breen


Jeremiah J. Breen joined the U.S. Navy in 1942. He was first assigned to the net-laying ship USS HAZEL YN-24, which maintained the anti-submarine nets in Narragansett Bay. In early 1944, Breen was assigned to the commissioning crew of the new light cruiser USS ASTORIA CL-90.

Breen was present at ASTORIA's commissioning on 17 May 1944, and he served throughout her war cruise in the Pacific, qualifying him as a Mighty Ninety plankowner.

At the completion of WWII, Jeremiah Breen had earned an American Theater Medal, a Philippine Liberation Medal with bronze service star, and an Asiatic-Pacific Campaign Medal with silver service star. He also qualified for an Occupation Service Medal as ASTORIA remained on station through the signing of the Armistice.



A page from EM2/c Lawrence Jones' pocket address book he kept at the end of the war. E Division shipmate "J.J. Breen" from Lawrence, MA is listed at lower right.
-from Brent Jones collection
BACK TO SHIPMATE PHOTOS AND TRIBUTES