Mighty Ninety plankowner Andy Coffaro, GM2/c from 2nd Division. This photo from earlier in Coffaro's Navy career shows him as a Seaman 1st Class.
-courtesy of his sons Tony and Andy Coffaro
Andrew P. "Andy" Coffaro grew up in New Brunswick, NJ. He entered the U.S Navy in 1943 after gunnery school. He was first assigned to a gunnery crew aboard a cargo ship and made a North Atlantic crossing to England and back. Following his return stateside, Coffaro was transferred to Philadelphia Naval Shipyard and became a plankowner assigned to USS ASTORIA CL-90, where he spent the remainder of the war. Coffaro was discharged in 1946 . He passed away on November 27th, 2003.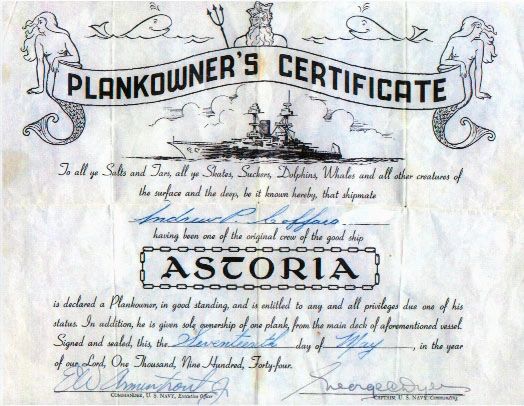 Andy Coffaro's Plankowner's Certificate from USS ASTORIA CL-90.

-courtesy of his sons Tony and Andy Coffaro