Bud Harms
C Division Chief Petty Officer




Mighty Ninety plankowner Bud Harms, C Division Chief.
-photo taken by PhoM3/c Herman Schnipper.


Dr. Herman E. "Bud" Harms passed away November 30, 2008, following a long battle with cancer. He was born June 11, 1918 in Hobart, Indiana. He married his childhood friend, the former Helen Stephan, in 1939. He served 23 years in the US Navy: through World War II, the Korean Conflict, and Vietnam. The Harms settled in Jacksonville upon his retirement from the Navy in 1963, and Dr. Harms then began his second career: education. He achieved his Undergraduate and Masters Degrees from Jacksonville University and his Doctorate in Education from the University of Florida. He then taught history for many years at Jacksonville University and NB Forrest High School. The Harms established a scholarship endowment fund at JU to benefit Forrest High School students. Following his second retirement, Dr. Harms devoted himself to volunteer service to his church and community. He served on committees and as an usher for Trinity Lutheran Church. He assisted others with tax return preparation through his service in the AARP volunteer income tax program. He also provided transportation for others to the hospital or to doctor's appointments, and he visited residents of nursing homes. In his leisure time Dr. Harms enjoyed maintaining antique cars and traveling. He also enjoyed the company of his friends, neighbors, and students. Dr. Harms is survived by his loving wife Helen, his three brothers, a sister, and numerous nieces and nephews.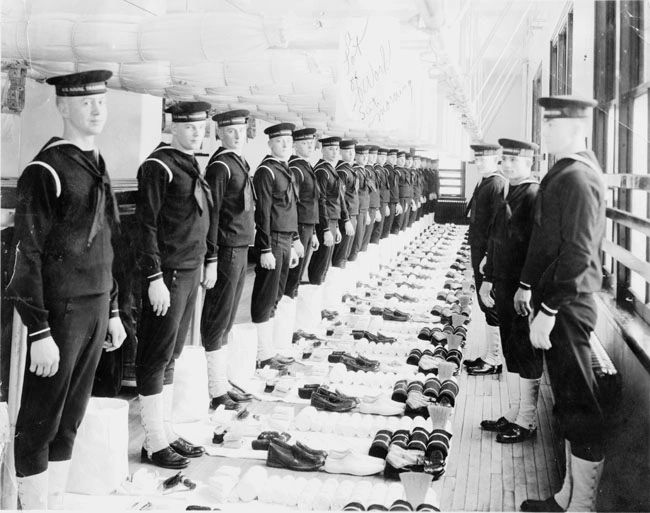 CLICK PHOTO TO ENLARGE
Bud Harms at far left as an Apprentice Seaman during recruit training at NTS Great Lakes in 1937. The barracks bay has been turned out for inspection, sea bag contents laid out at their feet.
-photo courtesy of Carl Theaker


BACK TO SHIPMATE PHOTOS AND TRIBUTES