"1-2-3-4 -- You're a Marine!"
by U.S. Navy Historian Robert A. Migliorisi



Anthony Migliorisi at his typewriter in an undated photograph. This photo was taken aboard ASTORIA by ship's photographer Herman Schnipper PhoM3/c.
-courtesy of his son Robert A. Migliorisi

This is the CL-90 shipmate biography for Mr. Anthony E. Migliorisi, Yeoman 3rd Class. Like so many other Americans at this time of war, my father was concerned about being drafted. He was married in January of 1940 to Frances who had given them a baby girl. At the time of his enlistment in March of 1944 the baby girl was almost three years old. Being the true Navy man that he was, and to avoid being drafted into the Army, my father decided to enlist himself into the Navy.


As the story goes when he got down to the induction station, they were lining people up 10 abreast, and then to his astonishment the recruiting officer started going down the line, and as he did he called out in succession as he walked by, pointing and calling out to each man, "1-2-3-4---you're a Marine! 1-2-3-4---you're a Marine!" Every 4th man was now a Marine. It was pretty frightening because for a brief moment my father's fate hung in the balanced as to how he would wind up being a Marine or a Sailor. He did not want to be a Marine; he had joined up for the Navy because that was where his heart was at. It was a close call for my old man, but that was just the first time.




The graduation photo of Company 207, USNTS Sampson. Anthony Migliorisi is 3rd row from bottom, 3rd from right. Future ASTORIA shipmate Deno Dolci is 3rd row from bottom, 2nd from left. -courtesy of his son Robert A. Migliorisi


By the end of the day they were all transferred to boot camp upstate in Sampson, New York. In those days boot camp was only four weeks long; if you didn't have it together by the time you got out of there, you had plenty of time to do so because we were in the middle of a raging war with the Japanese. A month later he came out of Sampson an Able-bodied Seaman with 2 bars (Seaman 2nd Class). Then it was onto a ship and out to sea to meet the enemy.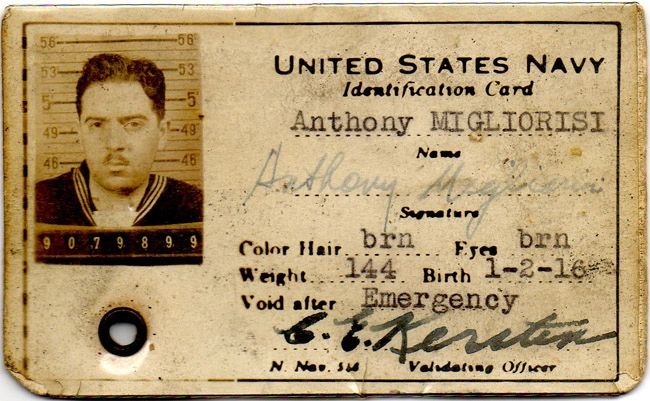 The U.S. Navy ID card worn by Migliorisi with his dogtags throughout the war. This card was used for security purposes to limit access on ASTORIA's bridge. -courtesy of his son Robert A. Migliorisi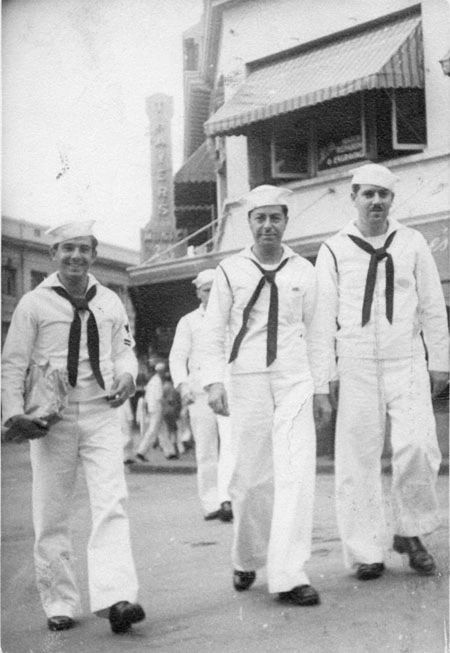 ASTORIA plankowner Anthony Migliorisi (right) and an unknown shipmate (center) with Anthony's brother Vincent in Honolulu, 12 November 1944. ASTORIA had just completed training maneuvers off Pearl Harbor on her way to join the Fast Carrier Task Force at Ulithi. Vincent, a Seabee, was on Oahu and they met up in Honolulu.
-photo courtesy of U.S. Navy historian Robert Migliorisi from his father Anthony's collection


My father's first induction into combat, along with everyone else on board, was not from enemy ships or torpedoes but from the dreaded Typhoon Cobra where three destroyers capsized and 790 sailors lost their lives on Dec. 17th, 1944. The USS Astoria, along with the other 180 ships of Task Force 38, could have avoided the storm but Admiral Halsey had different plans. After that it was the shore bombardment at Iwo Jima and then the granddaddy of them all, Okinawa.
Although my father was a Yeoman and spent most of his time behind a typewriter on the bridge, when the battle alarm sounded his battle station was outside in the second tower. My father was what you would call a "Talkie." His job was to transmit any messages that came down the pike from the bridge to other parts of the ship. He had to wear this large clumsy metal helmet that covered the ears and came down to the shoulders. Underneath the helmet he wore a very large pair of earphones, then around his neck was a microphone that looked like a horn that came up from his chest to his mouth to respond to any commands that were called out from the main bridge. It was very dangerous out there with all the gunners and the Kamikaze planes trying to crash into the ship, not to mention all the flak.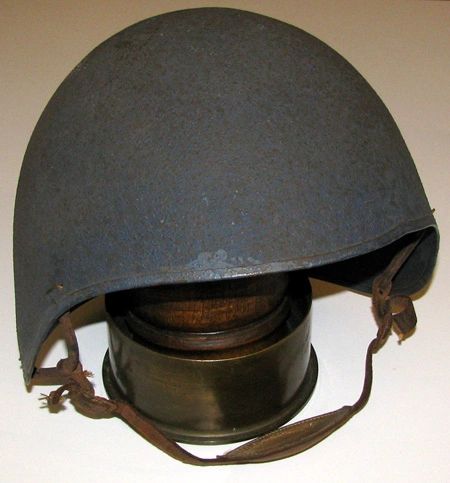 U.S. Navy Mark II Talker Helmet similar to the one worn by Migliorisi during combat operations.
-Brent Jones collection


My father always hated wearing that oversized helmet. The only time he ever actually wore the helmet was the very same day he was told that if he didn't wear it he was going on report! That was the day he caught a big piece of shrapnel that shot right through it and cut his neck. If he hadn't worn that helmet that day he would have died, and he remembered thanking the chief and saying a long prayer that night before he went to sleep.


The 10 months my father spent on the Astoria were like so many other shipmates—unforgettable; you were under constant attack and you did things whole-heartedly because you knew this could be the last day of your life. That's what made the shipmates' comradeship so meaningful and important.


So what's your story aboard Astoria?




ASTORIA plankowner Anthony Migliorisi, center, with shipmates P.O. Long and J. Sokal. This photo was taken in Long Beach, CA on 15 September 1945, the same day ASTORIA arrived at Terminal Island Naval Shipyard after her wartime service in the Pacific. Note the service ribbons--American Theater, Asiatic-Pacific Theater with four bronze stars (they were awarded one more after this photo), and Philippine Liberation with one bronze star.
-photo courtesy of U.S. Navy historian Robert Migliorisi from his father Anthony's collection.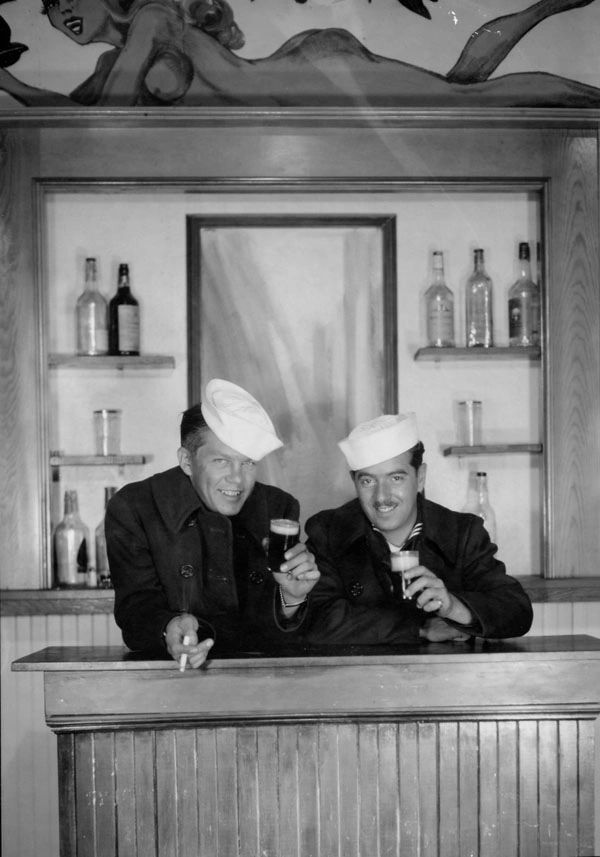 ASTORIA plankowner Anthony Migliorisi at right with a shipmate, also taken during ASTORIA's month-long stay in Long Beach for refit and repair during September 1945.
-photo courtesy of U.S. Navy historian Robert Migliorisi from his father Anthony's collection.




Anthony Migliorisi's Notice of Separation from the U.S. Navy, dated 19 Feb 1946.
-courtesy of his son Robert A. Migliorisi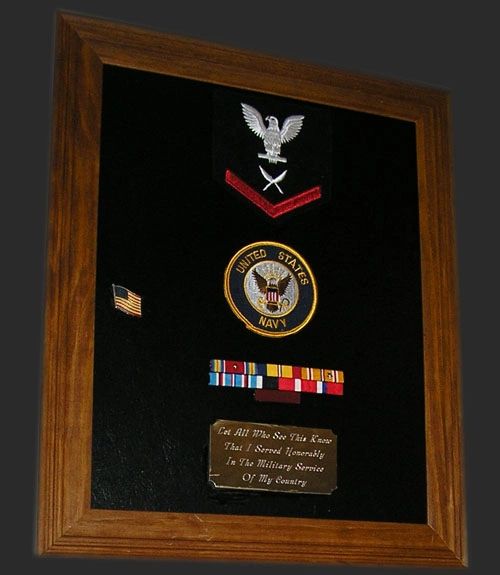 Anthony Migliorisi's service ribbons and Yeoman 3rd Class rating patch.
-courtesy of his son Robert A. Migliorisi


BACK TO INDIVIDUAL PHOTOS AND TRIBUTES