Rocco Moccia
Water Tender 1st Class, B Division
contributed by his son John Moccia



WT1/c Rocco Moccia, Mighty Ninety plankowner
-

close-up from B Division photo taken by ship's photographer Herman Schnipper




Rocco Moccia enlisted in the U.S. Navy right after the bombing of Pearl Harbor, on 29 December 1941. He reported to boot camp in Newport, Rhode Island. After four weeks of boot camp he was assigned to serve aboard the light cruiser USS MEMPHIS CL-13. During his time aboard ship, MEMPHIS operated in the South Atlantic conducting patrols and performing convoy duty. On 22 August 1942 Moccia and the MEMPHIS crossed the equator and he earned his Neptunus Rex certificate.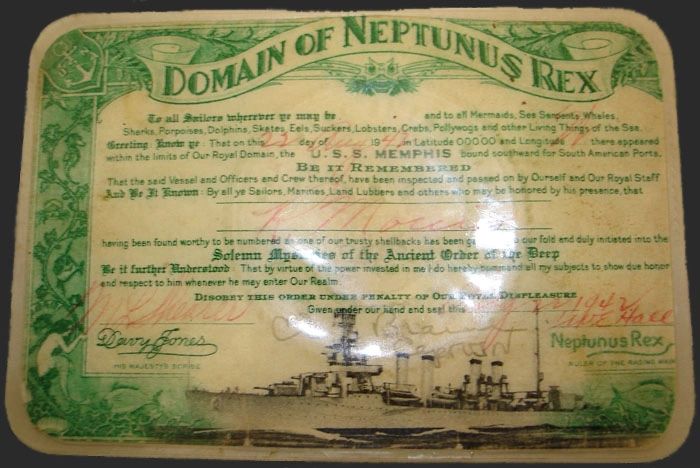 Rocco Moccia's Neptunus Rex card. Serving as proof that he had previously crossed the equator aboard USS MEMPHIS, this card reflected Moccia's status as a "Trusty Shellback" and exempted him from being summoned before King Neptune's court for any future crossing on any ship. As it turned out, USS ASTORIA never crossed the equator during her service life.
-photo courtesy John Moccia from his father's collection


Moccia was later transferred off of the USS MEMPHIS, and he reported aboard USS ASTORIA CL-90 at her commissioning on 17 May 1944 at the Philadelphia Navy Yard. This makes him an original crewmember of the ASTORIA, known as a plankowner. Aboard ASTORIA he served as a water tender, or boilerman. He spent most of his time aboard ship below decks, responsible for keeping ASTORIA's turbines under power no matter what.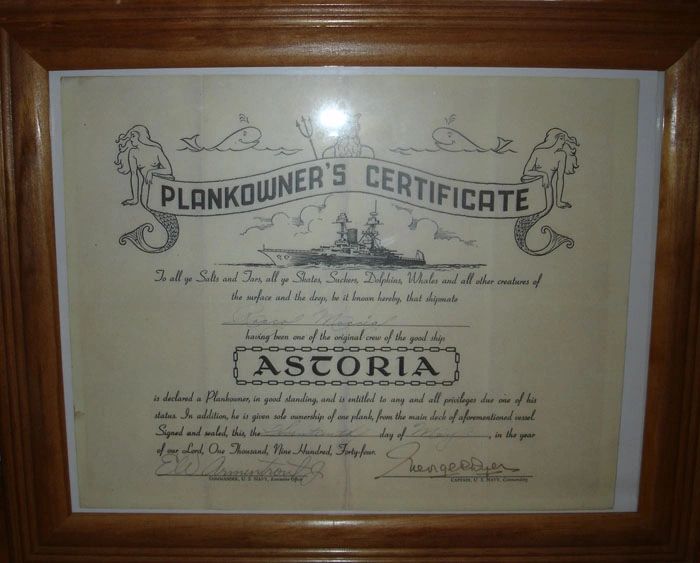 Rocco Moccia's plankowner certificate, indicating that he reported aboard USS ASTORIA CL-90 on the day she was commissioned, 17 May 1944.
-photo courtesy John Moccia from his father's collection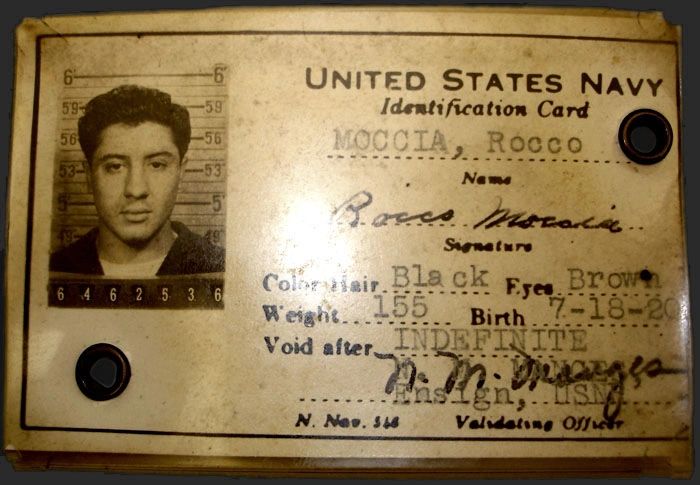 Rocco Moccia's USN identification card. Note the height chart behind him in the photo.
-photo courtesy John Moccia from his father's collection


He remembers the typhoon of December 1944 very well and recalls that most of the Marines were not feeling well during that time. Out of all the battle campaigns the ship was in, he told me that the battle of Okinawa was very rough for the ASTORIA. My father and the people below were at general quarters for six days in a row during that time. One of his biggest memories was when he was on deck during the battle of Iwo Jima and he saw them raise the first, smaller flag. This made him very proud to be part of the U.S. Navy. After leaving USS ASTORIA, he returned to the United States and worked aboard the new aircraft carrier USS MIDWAY CV-41 prior to her commissioning. He was honorably discharged from WWII service on 27 August 1945.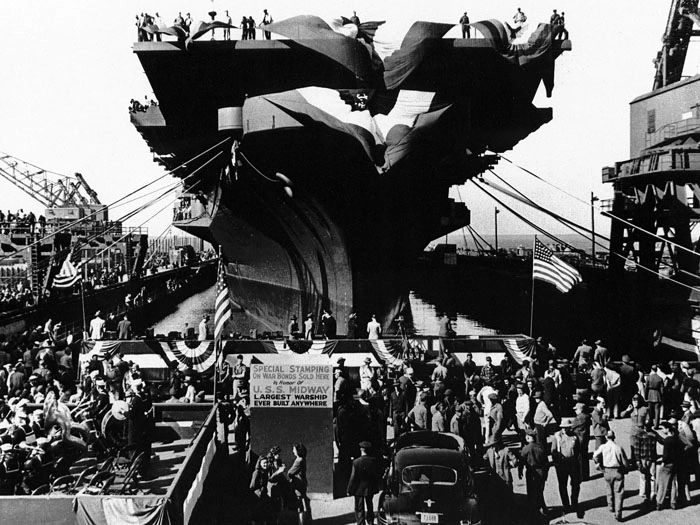 USS MIDWAY CV-41 at her launching, 20 March 1945. On this day Rocco Moccia was aboard ASTORIA CL-90 at the height of her Pacific combat action, and several months later he would work aboard MIDWAY helping to prepare her for commissioning.
-photo courtesy John Moccia from his father's collection


My father stayed active in the U.S. Navy reserves and when the Korean conflict broke out he was activated in 1950. He was assigned to re-commission the USS NEW JERSEY BB-62. The ship was a little different than the ASTORIA, but he also worked down below in the massive boiler rooms. He and his shipmates had the Jersey ready in no time. The USS NEW JERSEY conducted two battle tours during the Korean conflict. He was on the Jersey for the first tour only. To this day the USS NEW JERSEY is the most decorated ship in Navy history with 19 battle stars. My dad was honorably discharged from the Korean War in 1952.

To this day my dad is still a navy man and will always hold the ASTORIA close to his heart, as you can see from his license plate below: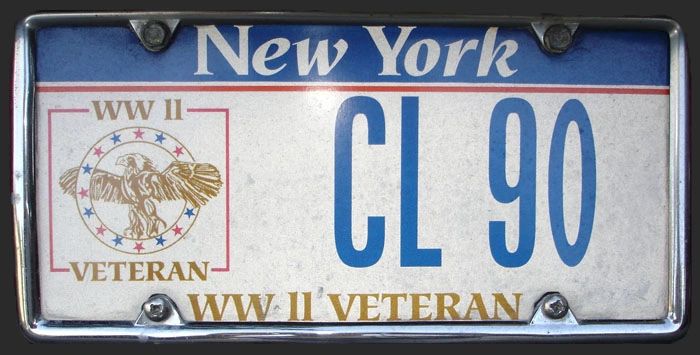 Rocco Moccia's custom license plate. USS ASTORIA remains near and dear to him today.
-photo courtesy John Moccia from his father's collection



Rocco Moccia's service medals and discharge certificates hang on his son John's wall, along with photos of ASTORIA CL-90 and NEW JERSEY BB-62. The U.S. Navy clock shown is the same type of clock that was used aboard USS ASTORIA.
-photo courtesy John Moccia from his father's collection





A close-up of Rocco Moccia's rating badges, service medals, ribbons, dogtag, and lapel pins. His service medals from top left to bottom right: Good conduct, American Theater, Asiatic-Pacific Theater (five bronze service stars), European Theater (three bronze service stars), World War II Victory, Occupation Service, National Defense, Korean Service (one bronze star), Philippine Liberation (one bronze star), United Nations Service, and Korean War Service. The ribbons beneath are Combat Action (gold star for WWII and Korea) and Philippine Presidential Unit Citation. In total, Moccia received ten service stars representing separate combat engagements.
-photo courtesy John Moccia from his father's collection



BACK TO INDIVIDUAL PHOTOS AND TRIBUTES