James W. Peddie
Electrician's Mate 1st Class, USS ASTORIA 1944-1945
E Division



Mighty Ninety plankowner Jim Peddie in a 1944 photo. Unlike the majority of ASTORIA's crew who were assigned to their first ship, Peddie brought knowledge and experience from his time aboard USS BOISE CL-47 earlier in the war.
-photo courtesy of Jim Peddie and his daughter Laurel


Hailing from Somerville, MA, Jim Peddie joined the U.S. Navy in 1942. He was assigned to the light cruiser USS BOISE CL-47 as an Electrician's Mate:


On board the USS BOISE I arrived in Algiers on June 21st 1943 and on July 10th we were assigned to beach bombardment task forces at Gela, Sicily. With the Italian surrender soon to happen on September 7th, we joined the British 12th cruiser squadron at Bizerte and loaded 788 officers and men of the British 1st Airborne and sailed for the Taranto naval base to secure the area and deny the base to the German forces.

As we sailed into the port, we watched the Italian fleet pass us by. We soon realized that our main decks were so full of jeeps and trucks and other supplies that we could not train our guns and if the Italians decided to fight we were helpless. That evening, September 9th, the HMS ABDIEL blew up in the port from unknown causes. The next morning we were able to safely leave port after unloading our men and equipment at the pier.


Peddie was assigned to the commissioning crew of the new light cruiser ASTORIA CL-90 in 1944. He recalled his experiences aboard the Mighty Ninety at Iwo Jima in February 1945:


On board the USS ASTORIA CL-90 on February 21st, 1945, we arrived at the island of Iwo Jima to lend fire support for the troops landing there. Two nights later we were ordered to stand off Mount Suribachi and I was called to the 36" searchlight platform to light the mountain.

We commenced firing main and secondary batteries to keep Japanese troops in their caves and not allow them to attack our Marines on the beach. Standing above 6" guns while they are firing is something you will find hard to ever forget. We spent most of the night firing at pillboxes and caves. In the morning we returned to re-supply the troops.


At the completion of WWII, Jim Peddie had earned an American Theater Medal, an ETO Campaign Medal with 2 bronze service stars, a Philippine Liberation Medal with bronze service star, and an Asiatic-Pacific Campaign Medal with silver service star.

Peddie was very active in the coordination of the USS ASTORIA CL-90 reunions in Boston in the 1970s. He has contributed many original documents to aid in the development of the Mighty Ninety website.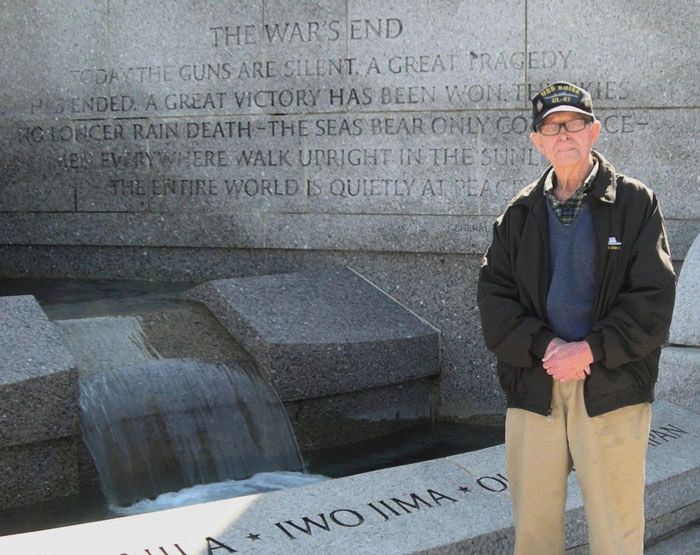 Jim Peddie at the World War II Memorial in Washington D.C. in October 2009. He is standing in front of the section reflecting the period he served aboard ASTORIA CL-90.
-photo taken by and courtesy of his daughter Laurel Peddie
BACK TO SHIPMATE PHOTOS AND TRIBUTES