Chapter 19: OPERATION JAMBOREE part 2

Back to the Tokyo Plain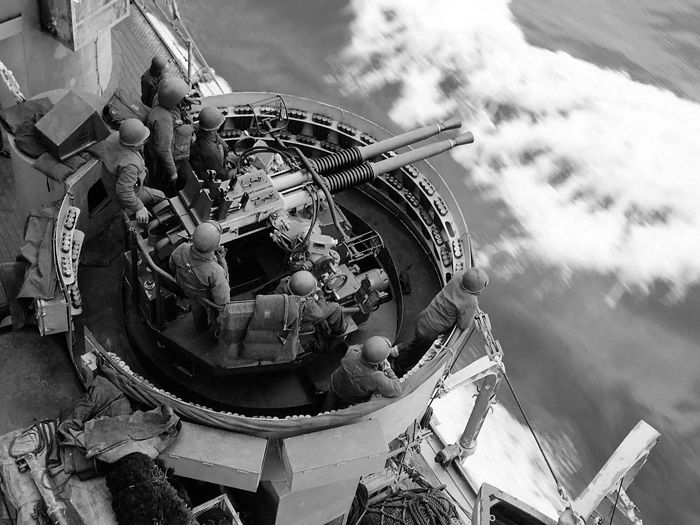 A 40mm gun crew aboard USS WILKES-BARRE CL-103 underway in late February 1945.
-U.S. Navy photo in NARA record group 80-G-265787
Following the surface actions of Leyte Gulf in October 1944, Admiral Halsey was champing at the bit for an opportunity to finish off ships of the Japanese Combined Fleet. Intelligence suggested that the remaining capital ships that had survived the actions at Leyte Gulf were divided into two sections--one group in the Inland Sea of Japan and the other in the South China Sea. Having missed the opportunity at Leyte, Halsey desperately wanted to engage the remaining Japanese surface threat and finish it off.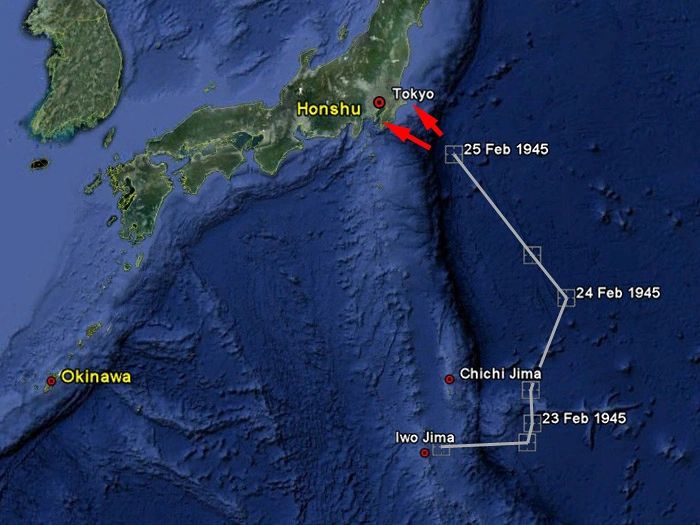 Task Group 38.2 refuels in the South China Sea on 11 January 1945. USS THE SULLIVANS DD-537 and ASTORIA are taking on fuel underway from opposite sides TALUGA AO-62. Note the shamrock on THE SULLIVANS' forward stack. Halsey's flagship NEW JERSEY BB-62 is in the background at left.
-manipulated from Google Earth imagery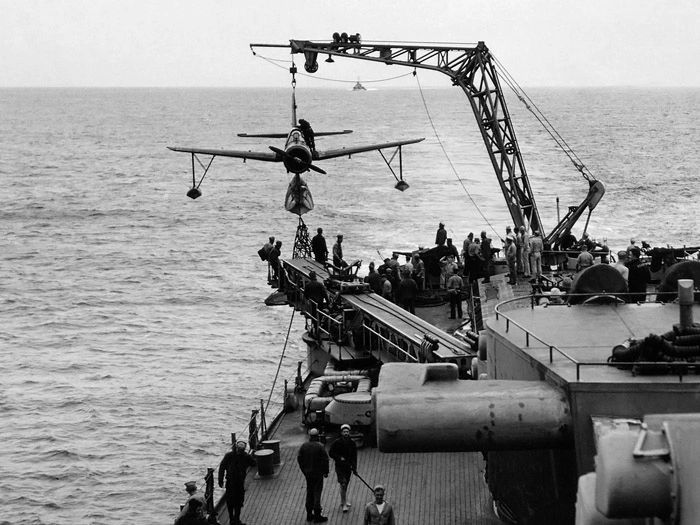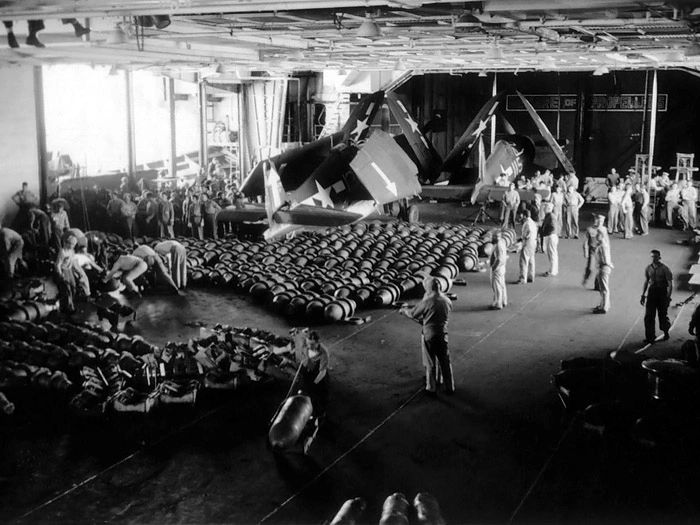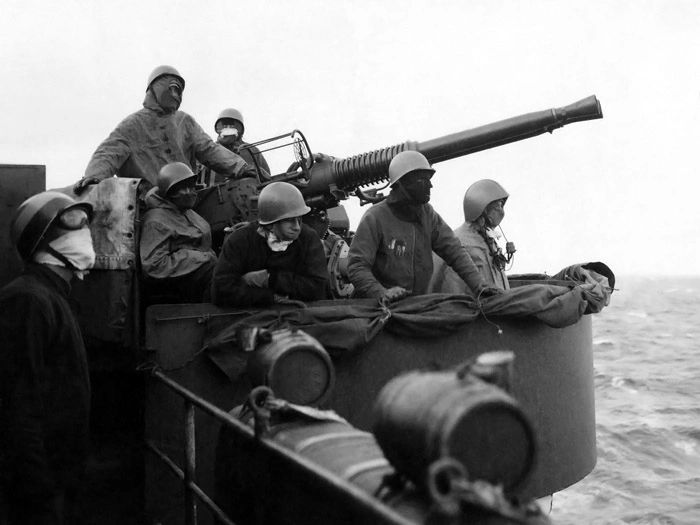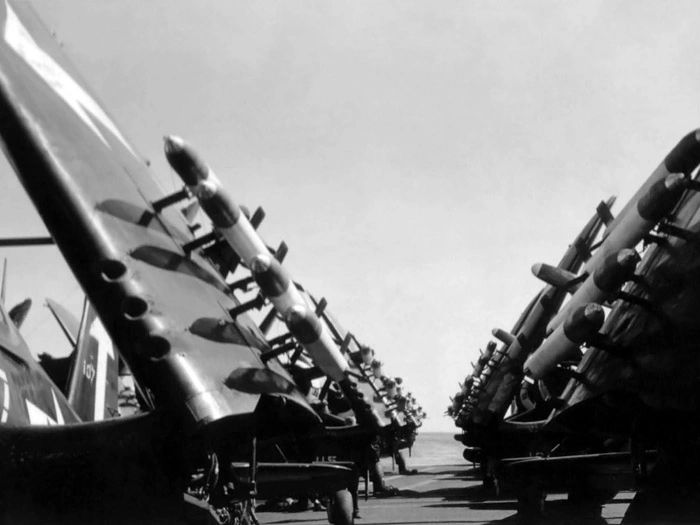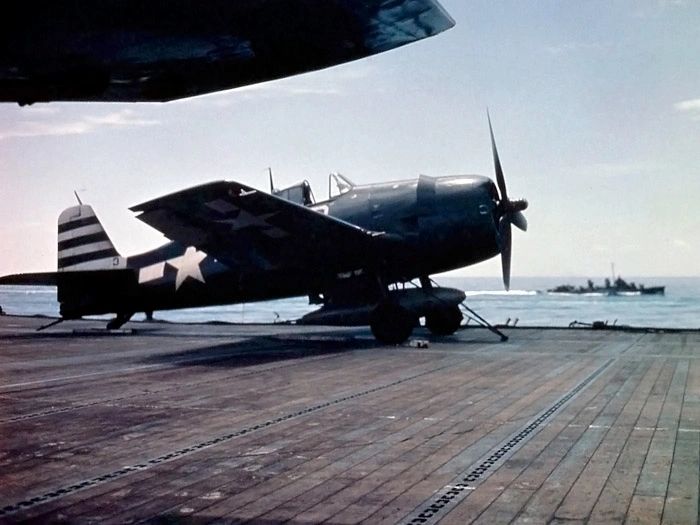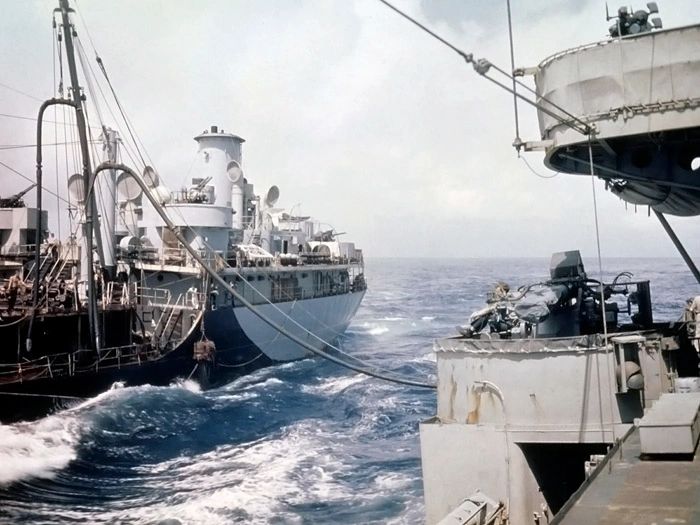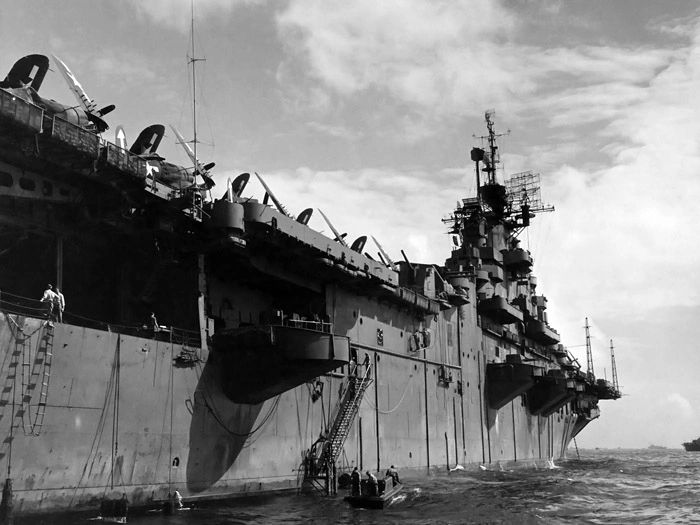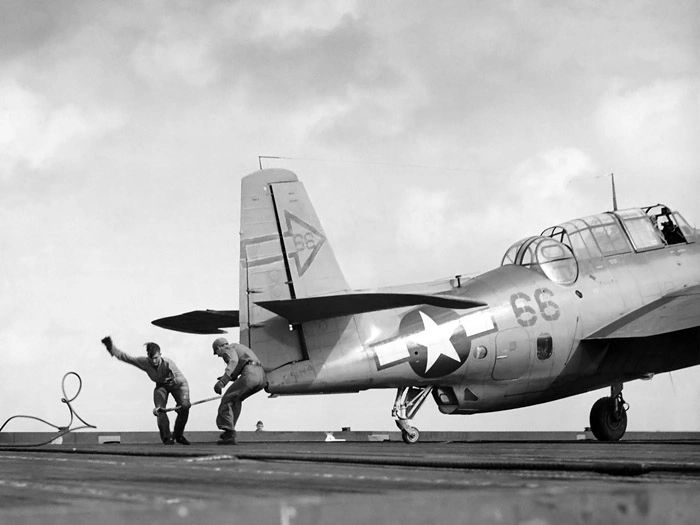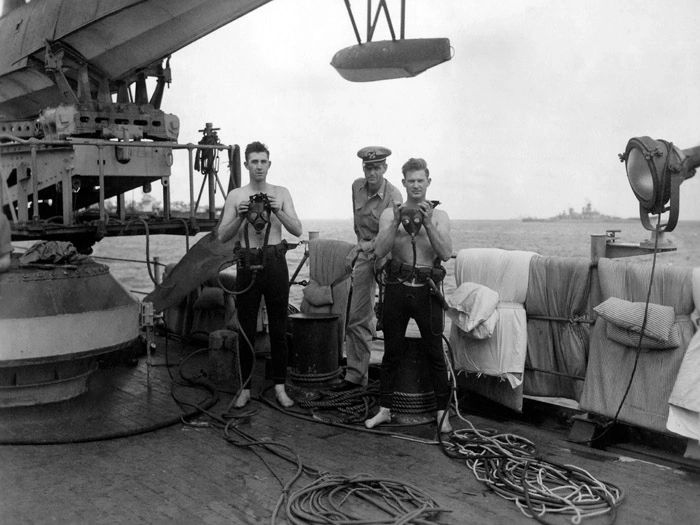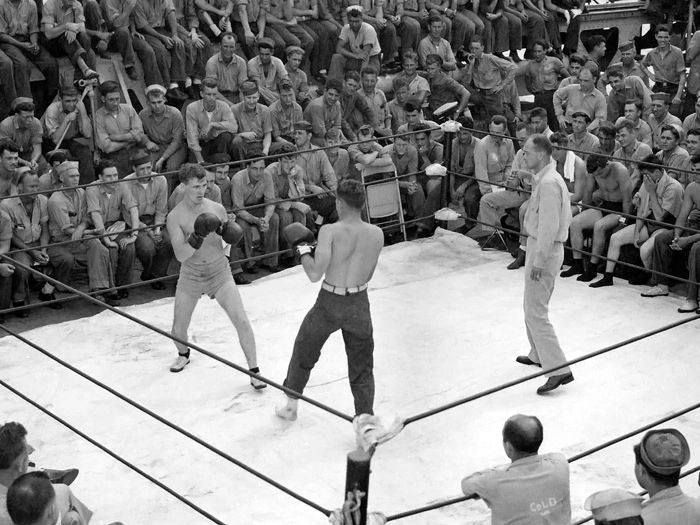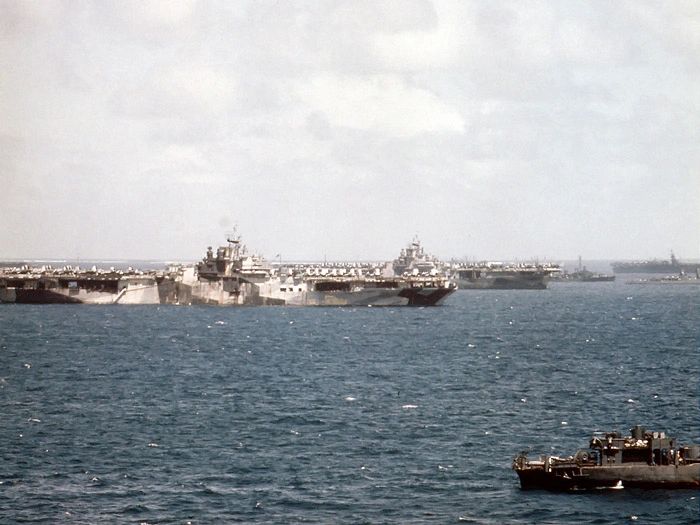 Hancock CV-19, Wasp CV-18 and an unidentified CVL.
-U.S. Navy photo in NARA record group 80-G-K-3814
Once Armitage was transferred back to ASTORIA, he received quite the good-natured send-up from his fellow officers to commemorate his adventure. At dinner he was awarded an "Extinguished Service Cross," an oversized cross on a chain. They also sang to him their own version of a well-known tune
For Gerard Armitage, the day was all the more memorable for another reason; the Marine Captain had been returned safe and sound to USS ASTORIA on his 24th birthday.
Enterprise CV-6, Bunker Hill CV-17, Essex CV-9, and an unidentified CV in the distance at center right. My best guess is Bennington CV-20, but I will save that thought process for now unless anyone is interested. Foreground cruisers are Flint CL-97 and Miami CL-89 with USS Shannon DM-25 underway at center. Note that Miami is either launching or recovering her starboard floatplane.
-U.S. Navy photo in NARA record group 80-G-K-3816
A closer view of Flint CL-97. The bow of Enterprise is at left, Bunker Hill at center and Essex CV-9 at right.
-U.S. Navy photo in NARA record group 80-G-K-3813
A closer view of Miami CL-89. Note that her starboard Kingfisher is missing, perhaps the floatplane visible overhead. An intriguing side note is that Miami's aviation unit was responsible for the overhead view of USS Randolph the day after her Kamikaze hit in her berth on 11 March, making it entirely possible that these photos show that flight in progress. Randolph's berth would be in the center distance of this photograph and all ships identified were present as of the morning of 12 March, so it all matches well.
-U.S. Navy photo in NARA record group 80-G-K-3812
DD-660 passes between the photographer and Bunker Hill CV-17. The cruiser at left is either Pasadena CL-65 or Springfield CL-66, and USS Astoria CL-90 is partially visible off the port quarter of Bunker Hill.
-U.S. Navy photo in NARA record group 80-G-K-3815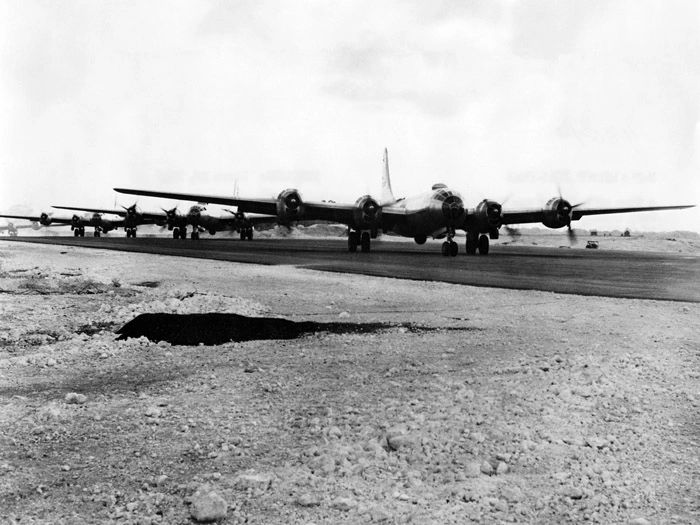 Coming soon CHAPTER 20: OPERATION ICEBERG part 1
CLICK PHOTOS TO ADVANCE TO NEXT CHAPTER
Sources:

Aman, Joseph.
Joey Fubar's Cavalcade of Humor.
Printed aboard USS ASTORIA CL-90, 1945.
Dyer, George C., Vice Admiral USN (Ret.)
Personal interviews conducted by John T. Mason, Jr.

Annapolis, MD: 1970
http://commons.Wikimedia.org/wiki/Main_Page
Wikimedia Commons image database.
http://earth.Google.com/
Google Earth.
Jones, Brent. Private photo and document collection.
MIGHTY NINETY: USS ASTORIA CL-90 cruise book
. 1946.
Morison, Samuel Eliot.
History of United States Naval Operations in WWII Vol. XIII: The Liberation of the Philippines.
Boston: Little, Brown and Company Inc., 1959.
Peddie, Jim. Private document collection.
Schnipper, Herman. Private photo and document collection.
Stafford, Edward P.
The Big E
. New York, NY: Random House, Inc., 1962.
www.usshancockcv19.com
USS HANCOCK CV-19 Association website.